Yesterday the Internet had a slight meltdown when Variety revealed a list of young actors which may be in the running to become the young Han Solo in the upcoming Star Wars Story-film. Although it doesn't start filming till next Janaury, the extra rumour was a potential cameo for Han Solo in Rogue One, in which case they'd better get a hurry on! I personally don't think the last rumour is true because you don't want your first stand-alone Star Wars film to be dominated by the appearance of a Saga-character.
Anthony Breznican has already refuted Variety's list, saying the actual list is a lot longer. Personally I was a little bit disappointed by the list because it was the usual suspects, really. But let's h
ave a look at some of these names and see how the films might pan out with them.
Miles Teller
Teller is an incredibly talented actor, as everyone could see in Whiplash. As he showed in The Spectacular Now as well, he can play that cocky character who has a very soft inside very well. He can portray a kind of unwilling vulnerability and give the audience a sense they really are watching a character break down. However, even he couldn't save the disaster that was Fantastic Four and, well, he's got something of an attitude sometimes. With Miles Teller as Han Solo we'd get a Han who's swagger might just be a bit off. He does humour well but it perhaps doesn't come as naturally to him as the directors might want. But Teller will be able to deliver the layered performance that I at least would love to see.
Ansel Elgo
rt
I have to get honest here and say that Ansel Elgort isn't my favourite actor. That is largely influenced by the fact I didn't like his character in either The Fault in Our Stars or Insurgent but I don't really have the confidence he would be able to pull Han Solo off. You see, despite what people liked to say about the wooden acting and "simpleness" of the characters in the Originals, Harrison Ford brought a lot of nuance to Han Solo. There is a vulnerability there but also still something of the kid that's wishing for the stars Elgort's character in TFiOS was something similar to this but so much of a teenager that it was almost impossible for me to watch. I'm not entirely confident he could bring a more adult quality to Han Solo, one shaped by a miserable youth.
Dave Franco
Phil Lord and Christopher Miller have so far written the kind of comedies that would suits Dave Franco, whose steadily worked his way into the comedy group helmed by Seth Rogen. As such, he does comedy well and that would be right up the directors' alley. However, as with Ansel Elgort, I'm not sure he could carry off the potentially more vulnerable sides that one would hope this portrayal of Han Solo will have. He's perhaps more of a fratboy than a smuggler, but I'd prefer him over Ansel anytime. But, finally, and I swear I'm not being mean here, Dave Franco is quite short whereas Harrison Ford towers over the rest of the Originals trio. Although if this gif below is an example of how he'd wear a waist coat, we could do worse.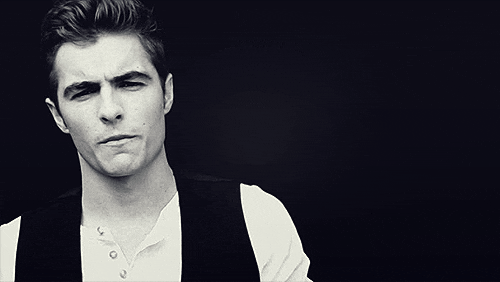 Jack Reynor
Time to confess, I don't know anything about Jack Reynor. I haven't
seen him in anything, which isn't surprising since I'd never have watched Transformers: Age of Existinction. However, he's got quite a range of films on his CV and a turn as Malcolm in last year's Macbeth is nothing to scoff at. The impression I'm getting is that he may be quite a good fit for a film that's a mix between serious and funny, a dramedy if you'd like. And he is, perhaps, enough of an unknown so far that this film could jumpstart a career rather than define one. All the actors above are already names of their own, except perhaps for Ansel Elgort, so
Scott Ea
stwood
This was the first name on the list that made me go, 'maybe', but that might be because Scott Eastwood is so close to Harrison Ford's age when he was filming A New Hope. As a consequence of that he is a bit more rugged, perhaps, than some of the younger actors on this list. I have to once again be honest though and say I haven't seen him in anything, partially because I was never quite sure about his acting ability. It could be that he blows us away by bringing to life all the different complexities that make up Han Solo or it could be a straightforward rogue-ish character. I also don't think I've seen him do comedy, so that would be an interesting choice for the directors.
Aside from these, Logan Lerman, Emory Cohen and Blake Jenner were also mentioned. I'm still putting my faith in Braznican however, when he said that the actual list is a lot longer. Personally, since the news of a Han Solo spin-off broke, I've been hoping for one actor in particular and that is:
Taron Egerton
Despite the star-studded cast, Taron Egerton stood out in Kingsman: Secret Service last year. He managed to be a bit of a rogue, a wide-eyed boy and someone with the world on his shoulders all at once. Aside from that, he's still relatively unknown and could maybe go up in the character a bit more. Also, it wouldn't hurt to bring a Brit into the mix, which has worked very well for both the Originals, Prequels and Sequels.
In the end, there is also the hope that they'll stick with the Star Wars tradition to pick relative unknowns. The audience will already come in with massive expectations 'because Han Solo', so maybe an unknown actor can bring something that a well-known name would not.
Most of these actors are between 20 and 25, except for Eastwood who's 29, so they're clearly going for a younger Han Solo but not a teenage-one. Unless this is all part of the well-known Hollywood tradition that you cast at least 5 years older than your character. But Lucasfilm has never done that, all the TFA actors are quite close to their character's age, so who knows. And I'd like to end this post with a great audition by Jamie Costa which I spotted on Tumblr.